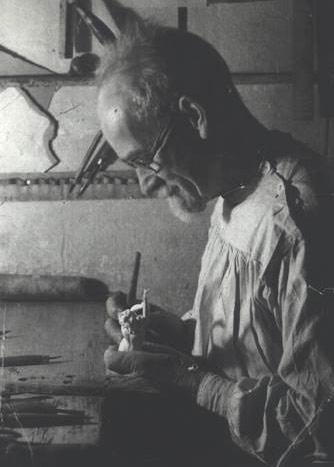 I was eight when my parents gave me a Craftsman vice and a piece of balsa wood for Christmas. My dad showed me how to hold and sharpen a handle-less paring knife out of our kitchen drawer. With a strap of leather wrapped around the tang, I spent the next month carving that soft piece of wood. Soon after, we made a rosewood handle for the little knife. I carved everything. I had no idea why I was so interested in carving wood, but I think my parents may have.
It wasn't until I discovered a book of old tintype images of my great grandfather's work that I made the connection between his craftsmanship and my own drive to create with my hands. Otto Richter worked until his death carving ivory in Dresden, Germany. I remember feeling a deep connection to his sculptural art. I looked through those books all the time--big, red, woven, spiral-bound bodies of work, the images faded and cracked on pages yellow with time. The images resonated with me. It sounds melodramatic to say I found my calling as I paged through those books, but that's exactly what happened.
At 13, I started working at Mandolin Brothers in Staten Island. That was in 1989. In the 90's, the value of vintage instruments skyrocketed. As a teenager, there was nothing more exciting than being on the floor of that prestigious workshop. Turning wood into music--it was the foundation I had been longing for. Coming of age at Mandolin Brothers I immersed myself in every aspect of the craft, reading, building, repairing and asking questions whenever I could. These inquiries often led me to the larger community of instrument professionals in New York.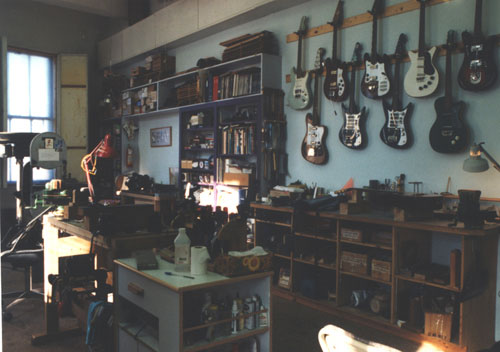 My teachers outside my Staten Island family included Carl Thompson, Flip Scipio and John Monteleone. I still remember the conversations we had about design, ethical issues on the repair of a vintage piece or just talk about a new album we were grooving on. I owe them all a debt of gratitude that I can never really repay.
In 1998, I decided to leave my friends in New York for a higher education and new job in Rhode Island. I was hired by Guild Guitars in Westerly.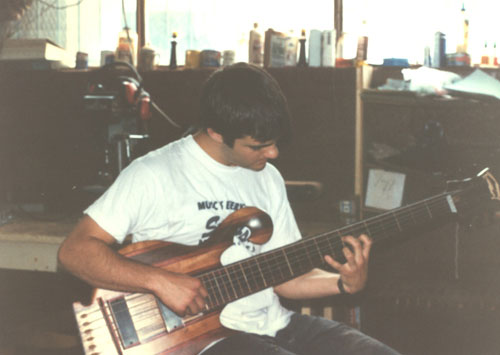 In the beginning, Guild was mentally grueling work. The daily grind of the new guy seemed endless. Each of us in the customer repair department always had at least a dozen instruments waiting to be repaired. But after a few months things got better. I started to do full rebuilds that included every step of the building process; these projects gave me the opportunity to experiment with building concepts and expand my knowledge about wood selection/graduations, alternative bracing layouts and string projection intricacies. By the end of my days there, I must have fixed hundreds of guitars with the Guild brand. I was always called by my middle name Otto at the factory. Honored by my namesake, I kept using it when I opened my own shop in 2001. Even today it reminds me of my simple beginnings with a knife and a block of wood.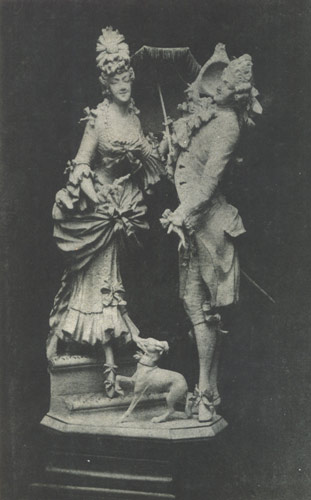 Today, many years from that first pairing knife, I build guitars and fretted instruments that marry contemporary forms with classic aesthetic and create perfect harmony in look, feel and sound. My instruments have been played by some of the most talented musicians out there and I've been entrusted to repair vintage instruments that are literally irreplaceable.
There are times when I come home from the shop when whole days have been dedicated to working with only a few square inches of wood. This is when I visualize the pictures of my great grandfather ivory sculptures. He did what he did, quietly and with great patience, until he died in 1953. After 30 years of building instruments, I am still as passionate about my work as I was the day I first stood, in awe, and witnessed our history's premier instrument works at that famous Staten Island music store. In this way I have been very lucky. I thank my family for the inspiration, my parents for the encouragement and my many mentors for sharing their skills, their stories and their secrets.